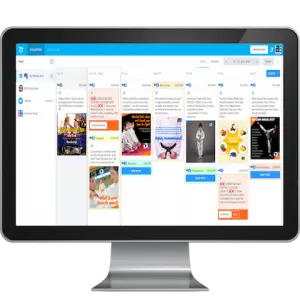 We Are Ahead of the CURVE
We know how to stand out from your competitors and we have created both a tool and managed service that will help you dominate your social media.
HOW WE BUILD & GROW YOUR SOCIAL MEDIA
THE EASIEST SOCIAL MEDIA PLATFORM ...PERIOD
You don't have time to worry about learning new software, Manage My Dojo Social is without a doubt the easiest and best platform in the world. We have seen and tried every other alternative and none worked for what we wanted to do. So what do you do then…Build your own!
Our software has 2 menu options, that's it! An amazing calendar view to graphically display the content we load every week for you and an analytics options to see how your posts are doing. That's it. Seriously. No other menu options. 
Still don't have time to do that?! No problem. We can post our content to your accounts for you so you never have to worry about it. Just connect your accounts to the software (takes about 1 -2 minutes) and never login again.
Speaking of not having time. Imagine creating or modifying our content in a matter of seconds with a powerful editor that is…wait for it…super easy to use!
We have 100's of built in vector graphics. Just click, resize, recolor, re-layer, change anything in seconds with zero loss in quality. EVERY PIECE of content you receive is LAYERED meaning you can change everything about it if you want. We are not aware of any other service that offers this flexibility. Competitors offer flattened images which you can't modify, you'd have to create from scratch…wasting time!
Additionally, we have partnered with a stock photo service so you have literally tens of thousands of images to search through and use.
CONTENT THAT IS ACTUALLY RELEVANT
We deliver content that is actually relevant EVERY SINGLE DAY of the month. Each piece of content will have great text in the headline and professional images. You can easily add your logo or change colors within seconds. We even have determined what type of post is best (day of week and time) and that is when they are scheduled to go.
Additionally, we include recommendations for cultural posts that have wording already done and directions on how to deliver pictures and videos. We recommend 2 – 3 per week for you to complete.
Facebook, Instagram, Twitter and Google. Everything you'd expect.
As far as we know, we are the only service that connects to Instagram directly without any other accounts or workarounds. It just works! And that's how it should be.
YOU CAN'T CREATE GOOD CONSISTENT CONTENT THIS CHEAP
You literally can not create content 30 times a month for what we charge. Being extremely generous and saying it would take you 15 minutes per day to create and post content for social media and your time is worth only $50 per hour (which it is definitely higher than this). It would take you 450 minutes every month to create content at an opportunity cost of $375. If your time is worth $100 an hour it would be $750 per month.
Remember the content we supply should be in addition to the culture posts we recommend. So If your regular content is on autopilot you then only have to create a few pieces of quality, internal content a week (which we tell you exactly how and what to do).
SOCIAL MEDIA
SOCIAL PLATFORM
DIGITAL PLUS
WEBSITE & SOCIAL PLATFORM
DIGITAL TRINITY
CONTENT/WEBSITE/ADS
Digital Advertising (FB/IG/Google)
Yes, we have the option to approve any post before it goes to your account(s).
Yes, we also have this option available.
We believe very good. It is a combination of engagement, cultural, motivations, meme's, animated gifs, facts, etc. 
Yes! It takes only a few seconds to add your logo to any of the posts.
Each additional account over 4 is just $5!
Yes! We are one of the only companies that can do this directly.
Yes, our terms are month to month. 
There is no trial because once you have access you have availability to all of our content. If you are unhappy for any reason just reach out and if we can't work it out we will refund your month.